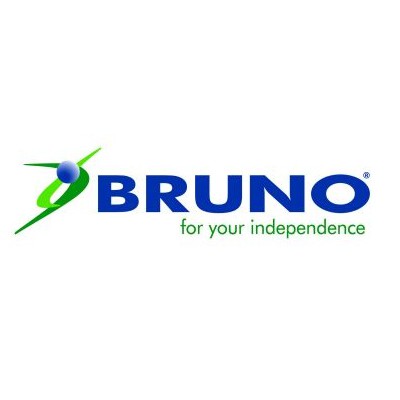 What is the Bruno Out-Sider Scooter and Wheelchair Lift For A Reciever Hitch?
The Out-Sider is an exterior trailer hitch mounted scooter lift. A battery powered lift that installs into the receiver hitch of many vehicles allowing for the transport of a wheelchair or scooter. You simply lower the lift down via a button, drive the scooter or wheelchair onto the platform, press a button to raise it up for travel down the road. It's a very easy lift to use, but is not the right lift for everyone.
Yes, this product has a long name and is often referred to by any part of the name rather than in it's entirety. Bruno is the manufacturer who makes the lift. They are based in Wisconsin and build the entire lift in the USA. The Out-Sider is the model name for the lift. ASL-250 is their internal model number they use within their manufacturing process as well as within their dealer network. Meridian refers to an update they did to the lift several years ago. They originally had the Out-Sider, then upon making several changes to the product, added the Meridian name to distinguish it. Lastly, the scooter and wheelchair lift simply refers to what the unit lifts.
---
What's Covered In This Bruno Out-Sider Scooter Lift Video?
We have taken an in-depth look at the Bruno Out-Sider. Here is what you will learn in our video today.
User requirements to use the Out-Sider
​Why this lift may or may not be for you.
Vehicle applications
The lift's warranty
Maintaining your Out-Sider to last for many years
Who the scooter and wheelchair lift are good for
Trailer hitch requirements
Product dimensions
Out-Sider Pros
Easy to load and unload (see user requirements)
Takes up ZERO room inside your vehicle
Has a swing out of the way feature for access to the rear door
Weather resistant sealed components
28 seconds from ground to fully stowed
Automatic securement in many cases
Out-Sider Considerations
Subject to rain, snow, mud, dust and ?
Requires user to walk from rear of vehicle to their seat.

Unless someone loads it for you.

Can only transport one scooter or wheelchair at a time
Adds up-to 3x leveraged weight of scooter or wheelchair to vehicle.
This lift is not suitable for smaller compact cars or small SUV's.
What types of vehicles will the Bruno Out-Sider work for?
It can be installed almost all full-size 1/2 pickups and 3/4 ton pickups. Most, mid-size to upper-size SUV's suck as: Ford Explorer, Chevrolet Tahoe, GMC Acadia, GMC Terrain among other similarly sized vehicles. For applications on smaller vehicles, you might consider the Bruno Out-Sider Micro or the Bruno Chariot. To find out for sure if your vehicle will work, ask a mobility dealer. It Free to ask!
---
Trailer Hitch Requirements
Keep in mind that most vehicle are going to need a tongue capacity anywhere between 3-500 pounds. The outsider itself is going to have a capacity of 300 pounds. However, the vehicles tongue rating itself needs to be able to sustain 300 - 500 pounds for adequate, safe driving.
If you vehicle is not already equipped with a 2 inch receiver hitch, You will need to have one added. You can reach out to your local Bruno dealer to see if they provide this service or, you may have to locate a local trailer hitch installer near you. If you already have one equipped on your vehicle you will want to check and verify the tongue rating. Most of the hitches will have that in order for you to identify. On the hitch itself you can see here Point at sticker on a trailer hitch. This has that rating capacity right on it. Keep in mind, 500 pound tongue capacities are going to be a minimum For most larger scooters and wheelchairs.
---
Dimensions of the Out-Sider Scooter Platform
The Out-Sider platform has the capability of supporting up-to a 37 inch wheelbase. If you looking to find out if yours will be capable of going on the Out-Sider you can simply measure from the center of wheel at the rear to the center of the wheel at the front. As I measure this one, I find that it is 35 inches. So of course this will work great for the actual Out-Sider. The width of the platform cannot exceed 27 inches scooters, This 27 inches is not adjustable. Another variable to consider is the vertical travel which the Out-Sider can accommodate. Maximum travel it has from the center of the hitch to the ground is going to be 25 inches. That is going to require a drop-down which Bruno will provide for you according to your application. Because 25 inches from the ground to the center of the hitch is maximum this application will exclude vehicles that have lift kits, that has a vertical travel from the ground to the center of the hitch great than 25 inches.
---
Battery Powered
The Bruno Out-Sider is powered by a 12 volt motor. The motor spins a screw drive actuator. This does not require any additional battery for the vehicle as it is simply wired to the vehicle's existing battery.
At Boulevard, whether it's the Out-Sider, Curb-Sider, Chariot or Bruno Joey. The common questions from our end users are Is this lift going to drain the battery? Nobody wants to be in a position where their mobility device whether loading or unloading is going to drain down their car battery leaving them stranded. A normal car batter stores 40 amp hours (A.H.) internally. So at Boulevard, we have done the math and approximately 30 seconds cycle time it takes to raise the outsider from ground level to drive-able height you will be able to cycle this Out-Sider 444 cycles Before you will drain down your 40 amp hour battery.
---
Weather Resistant Lift
We at Boulevard have found that Bruno has done a very good job at weatherproofing the Out-Sider Taking little steps such as anti-slipping and powder coating the platform, sealing up the key slot so no dirt, slime or grime gets into it. Properly sealing and securing the hand pendant. They have also sealed the connections for the quick release but also wanted to ensure to moisture or condensation got in there creating corrosion.
---
Securing Wheelchair or Scooter To The Lift
Bruno offers 3 securement type methods. Two of the methods we are going to take a look at will not require any effort from the end user. The one more commonly used for a scooter is the hold tight foot. This hold tight foot is going to come down onto the footrest of the scooter automatically securing it to the lift. Ensuring safe, reliable transportation. The second option that Bruno offers it the hold right arm. also known as a HTP arm. This is more commonly used when you are transporting a power wheelchair. Just as the securement on the hold tight foot is automatically performed, it is also automatically performed when you are loading a power wheelchair as well. The third securement that is available from Bruno is a retractable tie down. Unlike the first two options, this will require end users to properly put it on tension it and secure it to the platform. However is a great option if you want to go from a scooter to a power wheelchair wanting to maintain the same functionality of the lift.
---
Loading & Unloading Your Mobility Device
At The Boulevard have found the Out-Sider be be very easy to both load and unload. When loading the scooter onto the platform you will find that Bruno has added detents. These detents are built into the platform to help you understand when your scooter is positioned in the center of the platform. Simply drive it onto the platform, you will feel the scooter set down into the detents. At that point, simply come on over Turn the power on, which is simply activating a key, Raise the hand pendant up, push the up button and away it goes. In Bruno's design, you will find that as the lift reaches it's positioning it is actually going to tilt up, almost giving it a pre-load. That's going to ensure you have proper ground clearance Everything is going to be tight, secure and ultimately is going to withstand any and all road conditions that you may experience. As it reaches it's full up position It's going to be secured (again) with the hold tight foot. Continue to hold the up button until you hear the actuator ratchet ensuring that it's all the way in the up right position. In working with the product, we have found that the time it takes to travel from bumper height to the ground is approximately 26 seconds. While raising it from the ground to the bumper is approximately 28 seconds. All in all, you should be able to have the scooter or power chair loaded or unloaded just under a minute.
---
The Bruno Out-Sider Warranty
Bruno offer a full 3 year parts warranty with a 1 year labor warranty. Warranty claims can be processed through your installation dealer or any other dealer Bruno has throughout the United States.
---
Maintaining The Out-Sider
From an end users stand point, your primary concern should be that the key inlet is debris free, connections remain tight and solid but besides that, you should be worry free when it comes time to a daily routine check. That's again why we would recommend at the Boulevard you bring it into a factory trained technician to have them give it a once over to ensure everything it tightened, aligned and adjusted properly. You wouldn't dream of driving your car 100,000 miles without changing your oil or rotating the tires, Your mobility device should be no different. At Boulevard, we recommend and believe you should have this serviced at least twice a year. Now if your one of the individuals that lives in a sunny state down south, or you don't use it as often, You could probably get away with only servicing it once a year to keep it working reliable. However, serving it will ensure long dependability, and reliability... Isn't that the reason why you purchased it in the first place. When properly maintained we strongly believe this Out-Sider could last you up to 10 years. Of course if it's not used properly-used, not taken care of or not serviced, that life expectancy can be shortened significantly.
---
Bruno Out-Sider Pricing
Depending on the application of both the vehicle and the mobility device and the options that you want You can expect to pay any where from $2,600 to $3,600 installed.